It's our anniversary! Well, our one-month anniversary. The first issue of the Wordling went out exactly a month ago today. I jumped in without thinking about it too much, without obsessing, without the pros and cons lists that I love so much. Instead, I had an instinct to do it, and I trusted it.
I'm so glad. The Wordling is the most aligned business I've ever had. A grown-up version of the first business I started 20 years ago.
I'm still figuring out how to grow it and make it pay for itself, but I feel like I've figured out the content piece. A third of the way there. This month, I'm focusing on subscriber growth.
Thank you so much for being here and for coming along for the completely unpredictable ride.
Enjoy the issue!
Natasha Khullar Relph
NEWS & VIEWS
Comic relief
Free Comic Book Day turned 20 last Saturday, so it's a good time to talk about comics and the incredible boom that's happening in the comic and Manga space. "Boom" is an interesting—and unexpected— word choice for the industry. For decades, even as the impact of comics in film and television grew, the comic book industry has struggled with declining sales and an aging fanbase.
Until now.
NPD Bookscan's numbers show that "more comics material sold in 2021 than 2018 and 2019 combined," showing a 68.25% growth over the previous year. (These numbers are for physical books only.) "If we compare the 2021 sales to our first BookScan report in 2003, there's more than a 558% growth in number of copies sold," Brian Hibbs writes for the Comics Culture blog. "If I didn't see the numbers written in black & white, I'm not sure I'd even believe it."
As with most of publishing, Hibbs is quick to point out that it's largely the "hits" that are driving the business, with the average book still only selling approximately 1,088 copies per year (US numbers). These hits include The Dog Man and Cat Kid books from Dav Pilkey, as well as graphic novels from Gabriela Epstein and Scott Cawthon. Superhero comics are far down the list with the first DC comic appearing on the list at number 164.
Also interesting: Four of the top 20 are Manga which, according to Publishers Weekly, "is one of the big publishing success stories—and perhaps one of the industry's biggest surprises." The Manga market has grown so much in the last two years that it's now at its highest level by far, more than 2.5 times larger than the earlier sales peak back in 2007, Masaaki Shimizu, general manager and publisher at Square Enix Manga & Books, told PW.
Manga outselling American superhero comics is no accident, Tito W. James writes on Comicon's website. "I believe that Manga's success lies in addressing the problems that have been stifling many American comics. Manga has shown the ability to explore any subject matter, from Scifi (sic) high concepts to low stakes intimate dramas and make them engaging to young people. There's also a greater variety of representation across the gender and sexual spectrum without coming across as saccharine or didactic."
The takeaway? From all the trends we're seeing in publishing at the moment, from manga sales to romance novels to books on spirituality, one theme keeps emerging: Readers want diversity, insights into different cultures and lifestyles, and worlds they haven't experienced before. And it's not in bookshops that they're finding them.
CASEY MORRIS ON USING LINKEDIN
TO GET MORE FREELANCE WORK

The editor of Home.com talks to Natasha Khullar Relph about using LinkedIn to get more freelance clients, how to become indispensable to an editor, and finding time for your creative work.
An excerpt:
We're not actively looking for new writers right now, but I'm always happy to be in touch because we'll go through a cycle where we'll say, oh, let's look for writers with different experience. And we've definitely wanted to include more writers of colour and more diverse voices—writers of different backgrounds and abilities. So writers are definitely welcome to get in touch with me. LinkedIn is the best way because when I look for new writers, that's where I start.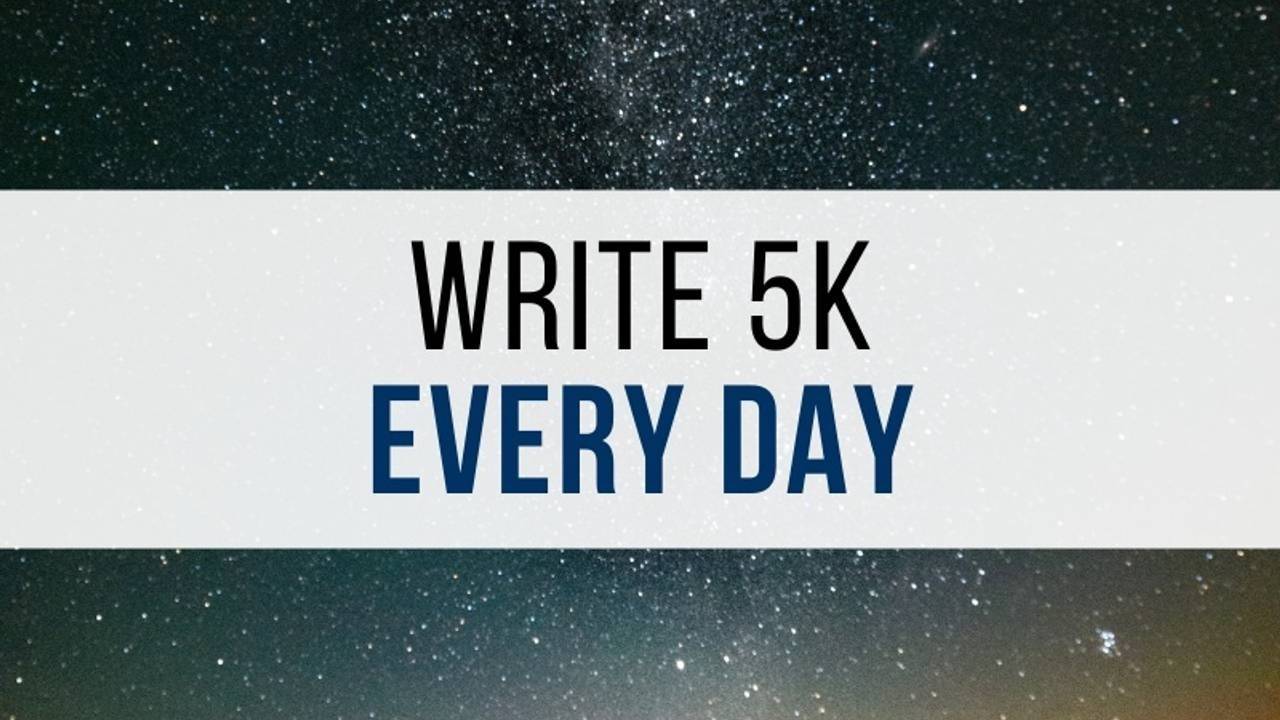 Write 5K Every Day is an 8-video bundle that will give you the mindset, the strategy, and the kick up the arse you need to start writing, and writing fast.
These trainings will walk you through some of the common struggles of time, focus, and limited attention, and show you that none of those things need to get in your way.
Starting with 10 minutes a day, I'll show you how to work your way up so that you can write 5k (or more) in as little as two to three hours a day.
WORDLING INSIGHT
Waiting.
Waiting for agents to get back to you, even with a rejection.
Waiting for publishers to offer you a contract.
Waiting for editors to respond to your query letters.
Waiting for that check in the mail that never arrives.
If you're waiting, you're being passive.
If you're creating, you're not.
There's a lot of waiting to be done in a writing career. But don't forget to actively keep creating as you do.
GLOBAL REPORT
FRANCE: French publishers have released new data in the 12th annual Digital Book Usage Barometer, and the focus is heavily on ebooks and audiobooks. Turns out, French readers are embracing audiobooks with 27% of digital audiobook users saying they're listening to more titles than before. The device of choice is the smartphone, both for ebooks and audiobooks.
WALES: The Hay festival, now in its 35th year and one of the biggest literary events in the UK, has had a few rocky months. Eighteen months ago, longtime co-founding director Peter Florence was suspended from the festival following a complaint that involved an accusation of bullying. Julie Finch was named as the new CEO last week.
VENEZUELA: In what is becoming a sad trend for this section, here's another country where press freedom is all but gone. "Today, there is not a single large open national media outlet that has editorial freedom," Fabiola Colmenares, content director of the digital channel VPItv, told IJNet.
QUOTE OF THE DAY
"Some days there won't be a song in your heart. Sing anyway."
– Emory Austin
SHARE THE WORDLING
Eight deadlines in five days seems like a recipe for disaster but The Wordlings do like to pull a rabbit out of their hat every now and again. Share the Wordling if you think we'll hit them with time to spare.
or
Support us by buying us a coffee.