Hi writer friends,
Bliss! I've spent the last few days obsessively reading, obsessively writing (for fun), and hanging out with friends, sometimes on the beach.
I have four deadlines this week, and I'm definitely not ready to return to work. There's a petulant child inside me who wants to scream, "But I don't wanna!" There's also a responsible adult who says, "Don't you have bills to pay?"
Back to work it is.
Enjoy the issue!
Natasha Khullar Relph
NEWS & VIEWS
Creator funds
In a move that signalled that the time for creators has well and truly arrived, Rolling Stone magazine featured MrBeast, a YouTube star, on the cover of the magazine, in its April creator-focused issue that spotlighted up-and-coming creators.
Creators are one of the fastest-growing economies of today, with more than 50 million global independent content creators, curators, and community builders fueling this trend. "This generation of micro-entrepreneurs is currently valued at $20 billion with estimations that it could grow to a $104.2 billion market in 2022—with $800 million in venture capital invested in these creator ventures year over year," Forbes reports.
Two million of these creators already make six figures, and pretty much every social media platform has jumped on the trend, launching "creator funds" in order to help this growing class of small business owners.
"This is a historic moment for creators," Hannah Doyle writes in Publish Press. "What's more exciting is that in the near future there will be no need for another 'Creator Issue'—every young artist to grace the Rolling Stone cover will undoubtedly get their start on social platforms."
What does this mean for you? For me? For writers and creators who may or may not have tapped into this creator economy?
Three things:
(1) The opportunities are endless and it's incredibly easy to get pulled into four hundred different directions in the name of "building your brand." What you need is focus. The era of "be everywhere" is passé. Figure out what you actually want to do and how you want to do it. There's a market, a platform, and a space for it. It may not always have existed, but it exists today.
(2) Social media used to be a means to an end, but—depending on your goals—it can be the end. If you enjoy social media, you can turn it into an additional income stream by working with brands, tapping into creator funds, and using your writing skills in a way that works for each particular platform.
(3) Gatekeepers and middlemen will always exist and they do offer some benefits. Agents and publishers can be nice to have on board. But they are by no means necessary. The default is no longer traditional publishing. The default is the independent creator, writing and publishing on their own terms.
SEE ALSO:
Saving for your future self while freelancing: Saving for retirement as a freelancer is different from saving as an employee. In this piece for the NYT, Margie Zable Fisher writes about some of the things you need to think about. (The tax and retirement advice is US-centric.)
When book tours move online: An author coming into town could be an event of sorts, way back when, writes Guy Gavriel Kay. "With the disappearance of most book-related media—certainly on the local radio level, and television shows who recklessly wanted to book novelists, it hardly pays publishers, it is hardly worth writers' time and travel, to do a tour unless someone is very well established."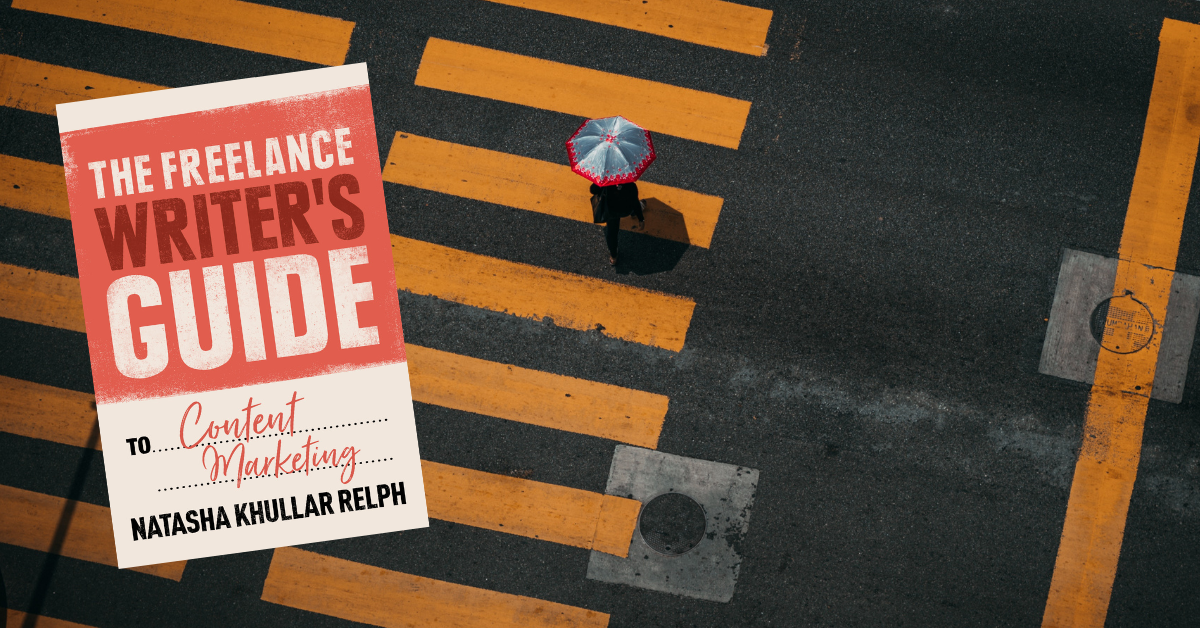 This book will help you understand the content marketing industry, where you fit in as a journalist, the pitching (and how it's different), and the ethical considerations and boundaries you need to maintain if you want to continue being a journalist.
In her typical no-nonsense style, Natasha Khullar Relph has produced a step-by-step manual for success in content marketing.
The Freelance Writer's Guide to Content Marketing shows you how to make a real living writing copy you're proud of for clients with cash.
WORDLING INSIGHT
You're not a finished book, but a work in progress. You don't have to wait until you're successful to share your journey with your readers.
Just as you learn from your failures, your readers can, too.
Never try to teach when you don't know what you're doing. But share, always. Share your battles, share your victories, and share your losses.
Because that sharing is what creates a community, YOUR community.
GLOBAL REPORT
BELARUS: In late May, police in Minsk detained the director of a publishing house, Andrey Yanushkevich, and his associate, Nasta Karnatskaya, after they opened a general bookstore in the Belarusian capital. Radio Free Europe writes that an inciting incident seems to have been a visit from two "pro-government propagandist journalists" who "started berating the bookstore staff for selling books in Belarusian that they said were inappropriate." Police reportedly subsequently arrived, searched the bookstore, and arrested Andrey Yanushkevich and Nasta Karnatskaya.
UAE: In a session titled "Arabic Media Crossover: When Books Become Sound or Go Into Film or Turn Into Games," Maha Abdullah, a localization consultant and regional languages expert who spent more than five years with Netflix and now is on contract to Disney Streaming Services, said full localization may be better than mere translation. "Localization doesn't simply mean translation. Localization accomplishes much more, since it will also include adaptation—of image, of color, of formatting, of the user's experience of the fonts of the design, and even the payment methods, as in localizing US currency into the [Iranian] rial or the [Iraqi] dinar."
UK: The future of the Arts Council in the UK is under review by the government. The Arts Council has provided much-needed support to literature organisations and libraries, not least during the pandemic. In 2020, Arts Council England was praised for having saved independent publishing after allocating £160m from an emergency fund.
QUOTE OF THE DAY
"Write what disturbs you, what you fear, what you have not been willing to speak about."
— Natalie Goldberg
SHARE THE WORDLING
The Wordlings can't be bothered with work today, so we're taking a break. Share The Wordling with a writer who doesn't take enough time off, but should.
or
Support us by buying us a coffee.