Happy May, writer friends!
I've been trying a new tactic this week. Instead of pitching for one-off assignments, I've been writing to content directors of brands and asking to be put on a monthly retainer. I've had three people show interest so far, and two calls scheduled. I'll let you know if anyone says yes.
Enjoy the issue!
Natasha Khullar Relph
NEWS & VIEWS
Changing opinions
The opinion section is changing. For one, it's no longer called an op-ed, but an opinion. Two, and more importantly, it's no longer just text. It's audio, it's video, it's multimedia, it's infographics, and more.
The New York Times, for instance, is focusing heavily on opinion videos. And last month, an "Op-Doc"—titled "The Queen of Basketball"—won in the documentary short subject category at the 2022 Academy Awards. Adam B. Ellick, the director and executive producer of the NYT's Opinion Video department says, "Our text viewers have come to expect the word 'opinion' to mean, sort of, 'I'm Tom Friedman' or 'I'm Maureen Dowd and I have a column to write and this is my worldview, and this is my take on this issue.'… And we do some of that [at Opinion Video]. But I think there's lots of different flavours of opinions. We can have an opinionated edit. We can shoot something with deliberate opinion B-roll. We can be opinionated in our use of music and in the storytelling."
Publications such as The Atlantic, The Guardian, and even The New Yorker have recently been entering this space. But the overwhelming success story in opinion, for now, is still The New York Times, which has doubled its Opinion staff to over 150 people since 2017 and is tapping global and well-known artists as part of a paid newsletter strategy.
Not everyone is pleased with opinion taking up such a large portion of newsroom resources with not as much editorial scrutiny. In DAME, Parker Molloy writes that on social media especially, not all opinion is described as such and is therefore easy to confuse with actual news. This can be a problem, especially when there is already so much misinformation about the pandemic and climate change.
Karen Attiah, the Washington Post's founding Global Opinions editor and currently an Opinions columnist, says news and opinion journalism are strongest when they feed off each other. She says, "What is interesting about opinion journalism today is that there is more space for experts, or academics, or analysts, to be able to more broadly explain their views, rather than just being reduced to a line or two in a quote."
What does this mean for you, the writer?
If you develop strong reporting skills and a strong voice, there is a world of opportunity opening up to you. The NYT's success is likely to encourage many other media organizations to pay more attention to their opinion sections and expand them in a variety of ways. Including by bringing in new voices and offering them regular space on their pages (or pixels).
SEE ALSO:
On the myths of being a freelance writer: We see a lot of writing advice here at The Wordling. Most of it is bad. Here's some that is not.
On the value of a publicist: "In the publishing business, you're going to need a great publicist, or you're sunk," writes Ann Patchett in an ode to her longtime publicist of 22 years, Jane Beirn. In the piece, she talks about publicists and the role they play in a book and author's life.
WRITERS WANTED
Some calls from pitches on Twitter:
Refinery29 UK is looking for fashion stories.
And also entertainment.
LGBTQ Nation is looking for freelancers.
Slate is looking for pitches in the history, culture, and life sections.
Wired, UK is looking for start-up profiles and interviews.
Them is looking for LGBTQ+-related things.
The Business of Business is looking for data-oriented stories about the hottest trends in business, tech, and crypto.
Which? Travel is looking for pitches from writers in Birmingham for a Commonwealth Games angled travel piece.
Prospect has a new Deputy Editor who is looking for pitches.
Rest of World is looking for pitches for long-form features (3,000+ words).
Business Insider is looking for work and business pitches.
Positive News is looking for solutions-focused feature ideas.
The Independent's Lifestyle section is looking to expand their freelancer pool.
Readers Digest, UK is looking to commission more travel content.
Want to support The Wordling and the work we're doing?
Please consider making a pledge for the book I'm co-writing with Tenzin Mariko, the first Buddhist monk in history to have come out as a trans woman.
Mariko was outed publicly when a video of her dancing at a friend's wedding went viral, putting her entire life in jeopardy. Rightly fearful of violent retribution, Mariko went into hiding and, from there, started the journey of coming out as a woman.
This book is a story of that journey.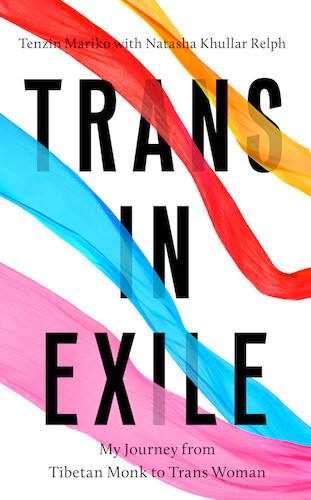 WORDLING INSIGHT
How do you expect an agent, a publisher, or a reader to believe in your work and put their money on it when you first do not believe in it yourself?
You say you believe in yourself?
Prove it.
Prove it by finishing it.
Prove it by submitting it.
Prove it by continuing to market it and sell it and promote it when no one else will.
Belief in yourself is not a thought, it is the way you take action.
On your own behalf, today, take action.
GLOBAL REPORT
CHINA: Online Chinese literature is exploding. Readers across literature platforms in China hit 502 million in 2021, accounting for 48.6 percent of total internet users, an increase of more than 4 million compared to 2020. "Given the current numbers of both writers and readers and its influence, online literature has become an important component of the culture life of Chinese people," the China Daily reports.
EU: "In the first proposal of its kind in Europe, the European Commission is targeting so-called 'strategic lawsuits against public participation,' or Slapps, where wealthy individuals and companies attempt to use the law to intimidate or silence investigative reporters and non-governmental organisations." The directive would allow courts in member states to refuse to recognize or enforce judgements in Slapp cases from non-EU countries.
NIGERIA: In this moving interview, Romeo Oriogun talks about his life as a poet in exile from Nigeria, his writing process, the themes in his work and how growing up in Nigeria affected his use of language in poetry.
DID YOU KNOW?
Who knew your books could kill you?
Some 19th century books were bound with a noxious green pigment that was used to color everything from fake flowers to book covers. The Poison Book Project is now trying to locate and catalogue these volumes, with 88 uncovered so far.
Gives a whole new meaning to toxic publishing practices.
SHARE THE WORDLING
Nothing like a long weekend to get you in the mood for another long weekend. Share The Wordling with a writer who's looking forward to some time off.
or
Support us by buying us a coffee.