Good morning, friends. A few days ago, I interviewed Angela Giles Klocke—author, friend, the first person I ever emailed way back in 2002, and the woman without whom I would not have become a writer. (Don't forget to check out her interview in today's issue.)
Something happened after we spoke. Something shifted. Something unlocked. And I woke up one morning soon after, sure that it was time to indie publish my novels.
"It's not about whether they hear it," I told the women in my writing group a few days later. "They probably won't. But it's important that I say it. I need to know that I said it."
I'm not sure what the next steps are, but my critique group is reading one of my novels, and I've booked tickets for The Self Publishing Live conference in June. Holler if you're also attending so I can say hi.
Enjoy the issue!
Natasha Khullar Relph
NEWS & VIEWS
Audiobook AI
Google Play Books announced last week that publishers in six countries—the U.S., Canada, U.K., Spain, Australia, and New Zealand—can now create, edit, publish, and sell AI-narrated audiobooks on its platform. Google Play will receive 48% of the revenue generated by an AI-narrated audiobook.
This is not an unexpected development. Sales of audiobooks in 2020 exceeded $1.3 billion, up 12% over 2019. But for publishers and indie authors, audiobooks can be expensive and time-consuming to produce, often requiring thousands of dollars and dozens of studio hours. AI-enabled automated audiobook creation has repeatedly been offered as a solution.
It isn't without controversy. Emily Lawrence, cofounder and president of the board of directors of the Professional Audiobook Narrators Association (PANA) told Publishers Weekly, "If I were to license my voice, and lose all control over how my voice is then used, my voice could potentially be used to voice content that I find morally repulsive." She also noted that AI licensing largely involves non-union contracts, leaving narrators vulnerable to exploitation.
ACX (Audible's audiobook self-publishing platform) explicitly prohibits AI-generated audiobooks, but players in the space believe it's a matter of when, not if, this will change.
Many point to backlist titles and older books that would never warrant high levels of investment or narrator involvement but have a chance of finding new fans. "A large backlist of titles never gets converted into audio, or are converted only into English," Taylan Kamis, CEO of DeepZen told Wired. He believes synthetic narration can compensate for a global imbalance in audiobooks.
Our take? Love it, like it, or hate it, AI is here to stay. It's likely that audiobooks will follow the trajectory of everything else in traditional publishing—a few celebrities and recognizable voices will be given big paychecks to narrate blockbuster books and the rest will fall to the cheaper AI.
But for indies who've been priced out of creating audiobooks, this could be a fantastic opportunity. We'll certainly be looking at developments in this space for our own.
SEE ALSO:
On writing about crypto: A financial background helps if you want to write about crypto as a freelancer, but Payal Dhar notes that with crypto bleeding into dozens of other industries such as sports, art, and entertainment, there are a ton of crypto-adjacent stories just waiting to be told.
Confessions of a publicist: In this anonymous interview, a media communications specialist talks about how publicity used to be press and TV ads but is now influencers and bloggers. Important reading for authors with books to promote.
WRITERS WANTED
Have a business story? Pitch it to the publications below.
There are now 50+ publications on our How to Pitch page. We'll be adding another dozen or so this week.
ANGELA GILES KLOCKE ON
WRITING ABOUT TRAUMA
In 2002, Angela Giles Klocke was the first person I ever emailed. I'd just started a website for writers and, given that she also ran several websites (and a print newsletter), I thought she might like it. She did. We've been friends ever since.
Today, Klocke is a writer, a podcaster, a photographer, a coach, an advocate for trauma survivors, and a TEDx speaker. She is the author of The First 22 Years Are the Hardest, a book that details a journey of abuse that started with emotional and sexual assault in the home, and ended with her husband dying with a gun in his hand as he attempted to kill her.
I spoke to Angela about the healing that was necessary to get this book out into the world.
An excerpt:
I'm not always confident I know the facts. I believe I know what happened. And yet, there are moments when I will doubt myself because I shoved it down and refused to think or talk about it for so long. The idea of truth sometimes feels very muddy. How do you experience that? And how do you make peace with the fact that on some days you have the solid truth and on others, you're not quite sure?
I agree. It can be very muddy. There are scenes I had to sit with to process them, remember them. Some of it would just come. Chronologically, that is exactly what happened. Some of that was feeling it, knowing something happened in that space.
That's the challenge of telling our stories. We have to revisit them, we have to go back. When I have blank spots, I get really concerned because I think, oh, what happened there?
In my attempt to continuously explore new publishing options, I'm crowdfunding a book!
This is the story of Tenzin Mariko, the first Tibetan Buddhist monk in history to have publicly come out as a trans woman.
By supporting the book, you not only get our undying gratitude, but lots of cool merch and access to author events. Plus, your name in the book as a supporter.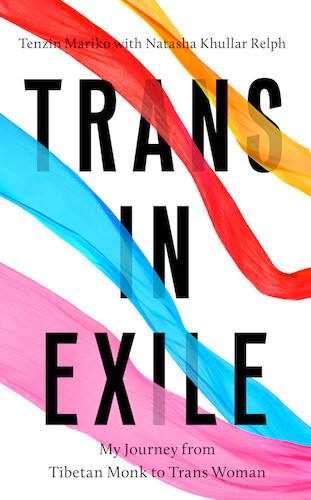 WORDLING INSIGHT
How you start is not always how you will finish.
Remember that when you have a rocky start to a project.
Also remember it when you're sailing along smoothly and beginning to get complacent.
GLOBAL REPORT
BELARUS: In 2022, Belarusians have no chance to safely work in an independent media while staying in Belarus, The Fix reports. "According to recent estimates by the Belarusian Association of Journalists (BAJ), a year and a half after the 2020 mass protests started in Belarus, 26 journalists remain behind bars. By August 2021, more than 50 media workers were under criminal prosecution and more than 100 news and media sites were blocked."
UKRAINE: Toronto TV, with almost 600,000 subscribers on YouTube, is the largest satirical news media organization in Ukraine. With what they're calling a "news with comedy approach" during the war, the team publishes regular video streams and weekly satirical news digests. Toronto TV has been among the most success media ventures in Ukraine in terms of attracting audience revenue, Anton Protsiuk reports. On Patreon, over 1,800 patrons have committed more than $10,000 monthly to the organization.
TURKEY: Anglophone media in Turkey historically has been a vehicle for trade and diplomacy, but in recent years, it has been increasingly co-opted by domestic pro-government propaganda, following trends in the greater local media landscape, Matt A. Hanson writes on IJNet. "Today, practically every major news outlet produced and funded in Turkey is pro-government," he writes. "The crackdowns that began in the offices of local Turkish-language newsrooms eventually spread to the domestic anglophone media sector, too."
QUOTE OF THE DAY
"I'm writing a first draft and reminding myself that I'm simply shoveling sand into a box so that later I can build castles."
– Shannon Hale
SHARE THE WORDLING
The Wordlings have been looking at other people's holiday photos and feeling intense pangs of envy. Share The Wordling with a writer who enjoys being on the road.
or
Support us by buying us a coffee.