The Wordling is on Twitter. Follow and be followed. Oh, and don't forget to say hi. We'd love to know if you're reading.

– Natasha Khullar Relph, founding editor
NEWS & VIEWS
London Calling
It's all anyone in the book biz has been talking about for the last week: The London Book Fair took place from April 5-7. LBF was, in pre-pandemic years, a major opportunity for agents to sell foreign rights and announce huge deals.
This is the first time the event took place in two years and while many in the book biz were unsure, even until February, whether they'd be attending, it turned out to be a successful return.
Major highlights included a "marked increase" in interest in Ukraine from publishers, international stands taking more prominent positions, indie authors looking to rebrand themselves as the "creative economy," and a keynote speech by Louise Moore, the managing director of Penguin's Michael Joseph imprint in the UK, urging publishers to understand that "the use of labels like commercial fiction, women's fiction and literary fiction was holding the industry back."
Elsewhere in Europe
At the International Journalism Festival in Perugia, Indian journalist Rana Ayyub delivered a powerful keynote saying, "I am proud of the fact that the government is scared of me and my words because somewhere it is impacting them, my truth is impacting them."
Earlier in the week, Ayyub, who has faced targeted campaigns of abuse both online and offline, was detained at Mumbai airport on her way to speak at Perugia. After seeking permission from the New Delhi High Court to leave the country, she was detained a second time before finally boarding her flight.
SEE ALSO:
Considering setting up a Substack newsletter? Know what you're getting into and the pros and cons of the platform, says Nick Wolny, Senior Editor of financial independence for NextAdvisor. His advice: "Decide what experience you want to give your readers, then pursue that setup mercilessly."
It's time to face the page and you draw a complete and total blank. Utter defeat. Sheer panic. No idea where to begin. Not enough coffee in the world to sustain you. What do you do? Everyone's favorite writer Susan Orlean has some advice.
Writing internationally, like many Wordlings we know? There's a good chance there are some inconsistencies in your writing. Use this guide to find them and slay them.*
*This is a sponsored post.
WRITERS WANTED
Have an opinion that needs sharing? Here are some places that will pay for op-eds. (And a job, if you'd like to spend your day editing other people's opinions.)
FREELANCE: New York Times Opinion Guest Essays. Formerly known as op-eds. 800-1,200 words. Pay unspecified.
FREELANCE: Financial Times. 800 words. Pay unspecified.
FREELANCE: 100+ more places to submit your op-eds, opinion pieces and essays.
JOB: Global Opinions Editor, The Washington Post. "The editor will commission and edit pieces from journalists and foreign policy experts from around the world, work with existing columnists, and identify potential regular contributors to add fresh and innovative perspectives to our lineup."
Sara Phillips on Environmental Journalism
The award-winning science writer and editor talks to The Wordling about environmental journalism as a career.
On climate journalism: Over time it has morphed into different things. These days it's a politics story, an economic story, a tech story, a human interest story, and a natural disasters story. It's all of the facets of journalism that you could possibly ever want with the background being climate change.
On having a science background: I do have that science background so I can speak to the scientists in their own terms and then interpret for the general public, but I think there is value of coming at that from the other side.
On pitching: Something that is actually crafted for the publication I'm editing at the time. Evidence that they know who the audience is and that this is story will actually fit the idea of who that audience is.
On great science stories: What makes a great science and environment story is purely humanity.
Building your author platform and finding your ideal audience doesn't have to be challenging or expensive! In fact, with a few simple tricks, a bit of elbow grease, and some dedication to your social media feeds, you can generate tons of interest for your book.
In this book, you'll learn how to find and engage your audience.
*This is a sponsored post.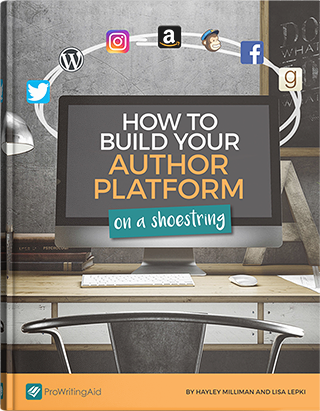 SHARE YOUR WORK
From next week, we'll be giving a daily shout-out to Wordlings who've had work published, received acceptances, or had writing and publishing wins.
Want to share yours? Send it to us and we might just shout you out!
QUOTE OF THE DAY
"A synonym is a word you use when you can't spell the other one." ‒ Baltasar Gracián.
SHARE THE WORDLING
The Wordlings have been enviously following along with post-LBF talk and booking tickets for writing conferences over the summer. Share The Wordling with a writer who wishes they were in London.
or
Copy and paste the link to send to writers you know: